OZZFEST UK 98
Date: Saturday, June 20, 1998
Venue: National Bowl, Milton Keynes, England
Crowds: 50 000+
Main Stage


Black Sabbath
– the godz and inarguably the Metal pioneers, re-united on December 4, 1997, new album, with original line-ups scheduled to be out end of this year. Featuring Ozzy Osbourne, Gez Butler, Toni Iommi and Vinnie Appice (replacing Bill Ward).
Slayer
– godz of Thrash, Speed and Aggressive metal, recently released the diabolical full length album 'Diabolus In Musica', the best devil tunes this year! Current line-up: Tom Araya, Kerry King, Jeff Hanneman and the re-recruited Paul Bostaph.
Fear Factory
– Cyber Metal godz, new album, the futuristic conceptual 'Obsolete' out July this year.
Pantera
– Texan Metal warriors fronted by Phil Anselmo (also in V.O.D.)
Soulfly
– Fronted by ex-Sepultura, Max Cavalera. Released a self-titled debut album few months ago. Featuring Logan Mader (ex-Machine Head).
Therapy?
– No comment.
Foo Fighters
– yucks!


Kerrang! Stage


Entombed
– Late 80's/ early 90's post-Morbid-Angel-era-Death Metallers, released
'Wreckage' EP end of last year.
Coal Chamber
– image-driven New Breed/New Wave Metal band fronted by Dez 'Pinhead' Fafara. Recently released the single, 'Loco'.
Human Waste Project
– yet another New Breed Metal, female fronted band featuring
Ms. Aimee 'Pierced Clit' Echo. Split up, after the show.
Life Of Agony
– No comment.
Pitchshifter
– No comment.
(Hed)pe
– No comment.
Heading to Milton Keynes, from far up north, the journey took about 4 bloody hours! With LOADS of frustrations for being late, and despite some internal fuck-ups which I should not mention here, we (4 of us) finally reached the site hoping to catch the memorable event of the year. However, SLAYER were already playing when we arrived. Not to mention that we missed the entire set of FEAR FACTORY. Thankfully enough, and as expected (Yeah.. right!), SLAYER set were also almost finished. Looks like they wrapped up right after the awesome 'Mandatory Suicide' and the skull crushing 'Angel Of Death'. Note that the latter song was and still is the most powerful and furious/ferocious thrash metal song ever recorded! They played it goddamn well too! Just one comment though, definitely not about the music, but Araya needs to lose some weight! Guess we were down here today (for fuck's sake!) only to capture those two songs, well, at least! A very powerful performance, indeed. The re-emergence of this 80's extreme metal outfit can no longer be taken as a joke! They are still the kings of aggressive music!
Araya and co.
Fucking hell. We will go on. We have come this far and we would not be that 'pathetic' and frustrated just because we missed part of SLAYER's set. There are more to come. Really? Hell Yeah !
Which are ENTOMBED and BLACK SABBATH. Frankly, I don't give a damn about other bands. Yes, some of them are really good in their own way, hell, I'm just not interested. Perhaps PANTERA and SOULFLY would change my mind.
ENTOMBED goes on right after Slayer, this time on the KERRANG! Stage. Opening up their set with devil's horns salutations, they were just great! LG Petrov (vocalist) greets and ENTOMBED's music of pure maniacal death and rock and roll metal was unleashed. Glad to remind you that they were the only Death Metal band ( Well, their music aren't DM anymore, at least they used to be!) on the list that day. They should be fucking proud of that!


Playing some songs from the old materials, making their music, as if 'South Of Heaven' being re-mixed with help by MOTORHEAD! 'Crawl' did create some 'diabolic' feelings amongst the still-tired-audience (Hey, they went up after SLAYER, of course the crowds weren't so hyperactive!) and not to forget, 'Clauses' was also as brutal as fuck! 6 songs, taken from 'Left Hand Path', and the rock and rollin' 'To Ride, Shoot And Speak The Truth' including 'Damn Deal Done' and 'Like this With The Devil'. Petrov looked eager enough, I mean for the World Cup, as he wore the France '98 shirt, oh hell, football + metal = thugs! England don't make it to the semi, though.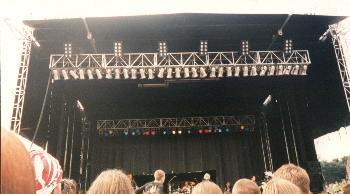 SOULFLY were next on the Main Stage. I have never really got into Max/Sepultura after 'Chaos A.D'. Perhaps he is too much into tribe-ish music now! Now he is back again, forming this-still-in-infant-stage band after the 'memorable' split with SEPULTURA. Fucking hell! Now SOULFLY sounded more of a those so-called New Breed/New Wave 90's HipHopShitMetal! Shit, I never could have expected more, but thinking of Max, I could say that he was among the old-timers who brought the thrash metal scene to the most optimum phase, destroys what he suppose to be protecting. Sorry to the SOULFY fans out there, but hell Max doesn't desrve to be in this band. Most of us would be glad if the next SEPULTURA album would kick SOULFLY's ass!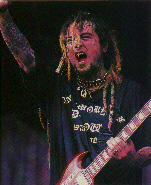 Max...he'll be washing his hair after the gig!
However, on the positive side of their set, I don't mean entirely. Well, they are far better than those KORN-ish bands out there. If this is what they called as pre-millenium Metal, then SOULFLY will, or should be crowned as the king amongst the league. No doubt about it. Their music are not that bad either. Now, with MACHINE HEAD's Logan Mader joining in, I suppose they are going to be big either way. Playing songs from their debut album, including 'Bleed', 'Bumba', 'Tribe', 'Eye For An Eye', 'Prejudice' and 'No'. Well, as expected (they played 8 SEPULTURA's songs in their recent gig!), maybe because of the limited time, two SEPULTURA songs were played, namely 'Attitude' and 'Roots Bloody Roots'. However, the in-your-face, third world hatred, SEPULTURA's 'hit' song, 'Refuse/Resist' was not played! I rather called the song as a must-play song at any gigs. They missed that one though.


PANTERA were on next. The big-fan-of-Black-Metal, Phil Anselmo was proudly enough to cheer the fans with loads of f-word in it! Great communication skills. He was the best performer of the day. I mean, a real performer. Although he was clearly drunk. Frankly, I have never been into or liked PANTERA. But odd enough, they seem quite good in their own way. I really liked the part (in which I know none of their songs!) where other guys from other bands (including COAL CHAMBER's Dez 'Pinhead' Fafara and ANTHRAX's Scott 'The Bald' Ian) gathered and sang together. Fucking cool, a unity under the flag of metal! However, after a few songs being played, I finally know one of their songs played on the day. This time, it was not PANTERA's, but merely good enough, heavier version of IRON MAIDEN's 'Number Of The Beast'! Yeah, and I finally enjoy their set!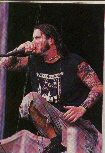 Phil Anselmo from Pantera
Therapy? were on next on the MAIN stage. A very quick substitute to the withdrawal-syndromed KORN. Fucking hell, I just don't give a damn! Not my cup of tea. Definitely not. Time to get some foods!


At last, not to humiliate anybody, the 'almighty' Foo Fighters were on. No way, Jose. They are just don't fit! Not only judged by me, but also by 80% of the crowds! Right after their second song (whatever the title was!), , those who were sitting on the sloped curvatures around the venue started the 'Mexican Wave'. I am not against the band though I am not into it. But still, they were at the wrong place, at the wrong time, and the 'horror' thing was, they were playing the wrong kind of music! Okay, let's make it straight, Grunge/Indie/Alternative-goers can fuck off from the venue! We were happily filling in our stomachs while they were playing!
The second last set, was by the Mr. Organizer Himself, Ozzy Osbourne. No, I don't know many song of his, maybe one or two which have been showed on MTV's Superock almost every week! They were great though. Ozzy was the oldest (He's 50, for fuck's sake!) among them all. The guitarist, Joe Holmes, was very young yet talented, and beside Ozzy, he seems to get loads of attractions by the video camera, nearly as much as Ozzy gets!

Ozzy with the dwarves
Finally, about 8.55 p.m., the grand finale of the festival, the bloody BLACK SABBATH. Yeah, BLACK SABBATH aren't the band for my age, I wasn't even born by the time they were reigning as kings (and they still are!), not until 6 years after the masterpiece 'Paranoid'. Unfortunately for me that I got into MANOWAR first before I got into them.



Ozzy as Kate Winslet on the mega screen for the titanic spoof!
Controversially, they are the pioneers of Metal! Maybe this is true because in early 70s they don't have metal shit at that period yet, only full with those flowery-hippie shit. So much for the hippies' era, BLACK SABBATH was in their own league back then. Iommi's storming riffs have influenced perhaps thousands of bands existed today!
They opened up (and closing the festival) with the doomy and gloomy 'War Pigs'. Hey! It was still deafening though the song is almost 28 years old! Beyond my expectation, incredibly, MANOWAR's flag was swept across by one true Metal fan, perhaps. Maybe he was thinking that BLACK SABBATH was paying a tribute to MANOWAR. I don't think so. But vice versa, yes. The 'sweet and loving' N.I.B then followed with some 'support' from over-hyped young fans started to turn the venue into a Punk/Hardcore gig. They didn't get any response though. The crowds of this set were dominated by metalheads old enough to be their dad! Then 'Electric Funeral' and 'Into The Void' were scrammed together, followed on by a real time spoof by the original drummer himself. Mr. Bill Ward. As being told, he was suffering from a heart attack and was still in treatment, well, he looked pretty much healthy that night!




Black Sabbath in action.. and in the darkness..

Meanwhile, Mr. Osbourne, however, did manage to pull out a simple joke, simply by pulling Ward's pants, I mean debagging him! I should not go on, as the scenery (shown on three big screens!) sucks. Really sucks. Hell yeah! Then, all of them, that's Ozzy Osbourne, Tony Iommi, Geezer Butler, Vinnie Appice and Bill Ward went in front of the stage to salute the still-hungry fans. The festival goes on, They crushed out the doomy 'Sabbath Bloody Sabbath', 'Black Sabbath' and 'Iron Man'.Symbolically, as I was expecting, they closed down, disappeared after the rocking 'Children Of The Grave'. Yeah right! Believe me, the show can never be completed without the 'infamous one'. Yes, I am so fucking right! In which, Ozzy and the gang came back, and Iommi hammered on the in-your-face, no-bullshit riffs of 'Paranoid'. That was it, so much for the 'Ole Ole' cheers throughout Ozzy's set, including spoofs on the three mega screens as a 'tribute' to some 'superstars' featuring naked Ozzy (instead of Winslet) in Titanic film clip, Pissing Ozzy in Hanson's video clip, Drag-queened Ozzy in Spice Girls' video clip, Damien-ic Ozzy in Southpark clip and the full monty of Ozzy in 'The Full Monty' clip. All done with a brilliant computer cut-and-paste imagery. The festival ended at about 10 minutes past 11 p.m. One damn good 'hell' of a summer metal festival! Mud, sweat, sunburn, girls, girls and girls! And of course, the 27.50 pounds spent was really worth it, though we fucking manage to watch only 6 1/3 ( that includes SLAYER's two last songs!) real warm-blooded bands! Also, this one is a damn good substitute for the two-year-absence of Donington Festival.


Like usual, loads of thanks to the management for being too careless, thus allowing me to bring my camera inside!
The 'Avis Car Rental' that helped by letting the Vauxhall Corsa despite last minute booking, gosh, the machine really 'helped' in reaching the venue on time! Excellent control and handling though.
To Pierre and friends (Stratanael Fanzine) from France, keep in touch. Yes, sad enough, pure BM heads are so fucking rare in the UK!
To the crowds of SLAYER (though we missed 2/3 of the set, performance:10 out of 10!), ENTOMBED (Death Rockin' Metal!), PANTERA (of thousands wonderfully mixed f-words), SOULFLY (Dana's dead, life should goes on Max!), HUMAN WASTE PROJECT (that's for the three over-hyped ladies, Grrrrrl power, huh?), COAL CHAMBER (Rayna needs to lose weight too!), OZZY OSBOURNE, and of course, BLACK 'BLOODY' SABBATH,
FUCKING HAIL!!!



The aftermath..



p/s: here are the 'recommended' line-ups (though this may seem too much! But hey, it's possible you know! ) for next year's Ozzfest, if any of you guys from the Ozzy management 'accidentally' read this, who knows!



Main Stage


Black Sabbath – This time with Bill Ward's in!
Motorhead – masters of sex, drinks and Rock And Roll
Judas Priest – Power Metal to the extreme
Iron Maiden – British godz of Heavy Metal
Manowar – 'England-Hailing' godz of true Heavy/Speed Metal
Venom – British pioneering and self-declared Black Metal act
Slayer – godz of skull-crushing Thrash Metal, for the second round
Cradle Of Filth – British finest Black Metal with NWOBHM crossover
Deicide – Slayer's aggressiveness to the extreme, Brutal Death Blasphemous Metal
Sepultura – Thrash Metal extremities in a Brazilian way
Type O Negative – godz of Seminal Goth Metal fronted by Pete '14 inches' Steele
Paradise Lost – British godz of Goth/Metal crossover
Napalm Death – British godz of Grindcore




Sponsor Stage


The Haunted – The new Slayer! With members of the late 80's/early 90's Death Metallers,
At The Gates and Seance.
Apollyon Sun – Celtic Frost's Tom G. Warrior new experimental band, metal meets electronic!
Tura Satana – New Breed Metal with an attitude, fronted by the 90's Metal goddess, Ms. Tairrie B


'Oasis'/'Verve' – the British bastards of the stupid Britpop scene, so that they will bite their fingers off watching other bands play. Not to mention they will not be able and will not intend to play stupid and talentless music again afterwards!
'The Spice Girls'/'All Saints' – the British whores, need to tell more?
Go to the Catharsis gig review
Go to the News page
Go to the Main page
This page has been blessed for
times since August 19, 1998