RAHAB NEWS 1999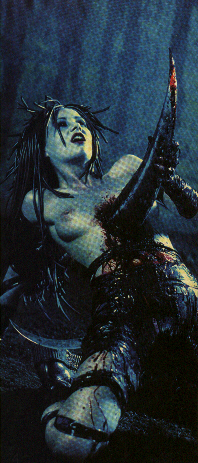 Impaled for pleasure...
Millionz of apologies for the long absence. I have finally graduated.. and obtained the precious degree in Electrical and Electronic Engineering after months of total web ignorance...
Now I shall spend more time on the web than usual...

---
Summer 1999 news
1. We are indeed looking for signed or unsigned BLACK/DEATH/THRASH/SPEED/HEAVY METAL bands to be featured in the upcoming 3rd issue. Sorry, no Mansonite or Kornite type of bands!!! Weak and Fake bands need not apply...
2. 1999 flyer has just been released and shall reach your snail-mailbox soon...
3. Here are some of the UK gig reviews for the past months of the year 1999
(Although some of them are 6 months old!)
Kerrang! Xfest -Clash of the Titans - Slayer/Sepultura/System Of A Down (with pics)
Valentine's Day Massacres - Deicide, Rotting Christ, Ancient Rites, Behemoth and Aeternus(with pics)
Emperor, Limbonic Art and Peccatum(with pics)
A Night of Slayer Musica - Live Undead and Disposable Heroes (A Tribute to Slayer and Metallica)
Marduk and Angelcorpse (coming soon!!!)
4. Another good news..I have been appointed by IMPIETY as their UK distributor for their latest release. CDs can be obtained directly from IMPIETY or me if you're in the UK. The flyers should reach you guys now. Extremely nice CD layout, in digiHellpak format (As told by Shyaithan). Bringing up a new term which they prefer to call as Black Speed Metal. No, not that cheesy 80's metal played by 90's bands, It's Black Metal, still at its purest form, with some speed metal element..!!! No shit, ultra heavy 7-string madness...!!!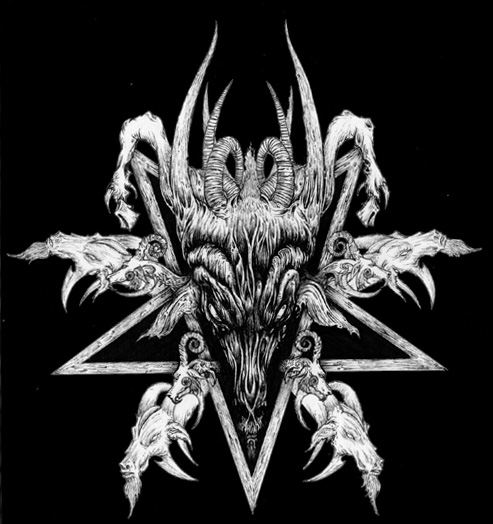 "Skullfucking Armageddon" Ltd edition Digihellpak CD
5. Nicholas Barker (drummer) has left Cradle of Filth...also Gian Pyres (guitarist) and recently recruited drummer shall depart..very soon. Not wanting to make GAY music anymore..huh?
6. The cancellation of Ozzfest 99. Nothing can be said about it...except fuck you Ozzy!!!
Yes, England is indeed in the need of Metal festival. Big Day Out is for sissies. At least the line-up of the cancelled Ozzfest is far better than (P)ig Day Out's!!! We need more metalfest!!!
7. I finally bow to the heaviness of Slipknot, one of the West Coast Metal bands which I previously condemned.
No, they're nothing like their counterparts. Death Metal riffs and fast double bass drumming made their debut album certainly not to be underestimated. System Of A Down (SOAD) in the other hand, are one of the most unique New Wave bands which mix the beautiful Middle Eastern Melody and Heavy riffs. Double bass drumming, with punk-ish approach, but not as heavy as Slipknot. They're worth checking out for!
8. Iron Maiden, as we all already knew (unless you're living in antartica), have re-unite!!! Dickinson (vocalist) and Adrian Smith (guitarist )are back meaning that this time Iron Maiden consist of three guitarists!!! Hell knows what the new album will sound like. A sequel to 'Hallowed Be Thy Name' maybe?? All bow to the irons!!! No UK dates for this year, although there has been a rumour telling that they'll be playing at the Ozzfest. But I think that is certainly NOT true.
9. Newcastle's Mayfair is indeed closing down. The city council is plannig to tear the place down to give way to a new cineplex's parking spaces, which is very weird considering that Newcastle already has at least 4 major cineplexes and a massive car park just nearby the existing Mayfair! The Rock Night promoters and deejays however have found an alternative nightclub, situated in the Chinatown called Stagedoor. Very small compared to the Mayfair, but at least, something for the weekends!

Ear/EyeFuck for the summer
1. Marduk-CD'99-Panzer Division Marduk****1/2
2. War-CD'99-We Are War***
3. Barathrum-CD'98-Legions of Perkele***
4. Grotesque-CD'98-In The Embrace Of Evil***
5. Cradle of Filth-video'99-Cruelty Brought Thee Orchids****
6. Cradle of Filth-video'99-From Cradle to Enslave****1/2
7. Ulver-CD'98-William Blake's Marriage of Heaven And Hell**
8. Impiety-CD'99-Skullfucking Armageddon****
9. Sodom-CD'99-Code Red****
10. Slayer-CD'86-Reign In Blood*****(Expanded edition)
11. Iron Maiden-CD'98-The Number Of The Beast****1/2(Remastered edition)
12. Manowar-CD'84-Hail To England*****
13. Dimmu Borgir-CD'99-Spiritual Black Dimensions**
14. Emperor-CD'99-IX Equilibrium****1/2
15. System Of A Down-CD'98-System Of A Down***1/2
16. Slipknot-CD'99-Slipknot***1/2
17. Abyssos-CD'99-Fhisthanian Nightbreed****
18. The X-Files-video'99-Fight The Future****1/2
---
This page has been raped for

times since August 15 1999..
This site is maintained by the editor of RAHAB fanzine, as part of the RAHAB metal circle activities.
1992-1999 RAHAB Metal Publications