Norwegian Black Metal Masters invade UK..!!!
Emperor, Limbonic Art and Peccatum
Venue: London Astoria 2, London, England
Date:Wednesday, April 14, 1999
---

Tonight's is the night of an incestous affair. Emperor and Peccatum. Both are under Ihsahn's genius musical talent. The latter however, brought by Ihsahn possibly because of his need of a different approach towards Metal.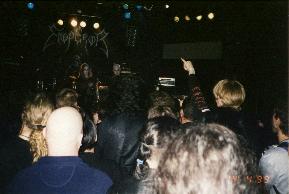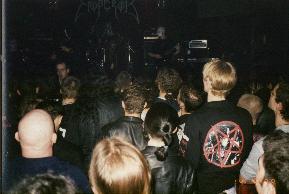 Ihriel and Ihsahn, marriage made in heaven?
Nonetheless, Peccatum are OK. Alongside unknown second guitarist, Peccatum blast through the evening with oral attacks of Lord PZ and Ihriel. With the absence of drums, synths, and basses, they manage to go through the set successfully. Too bad the band is still new, and with only one album out, they really have nothing to perform. 3 songs, 'Where Do Then I Belong?', 'Speak Of The Devil' and 'The Change' and they are gone. Wish they could do some Emperor covers, and that'll be pretty ironic..!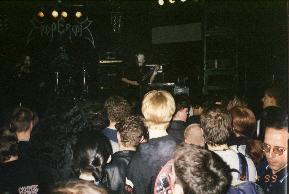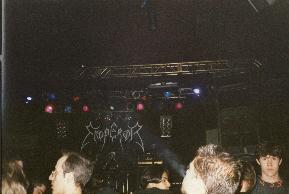 The same happens to Limbonic Art. The absence of a bassist and a drummer seem like a trend tonight. And no, nothing beats real life music played by real life musicians..!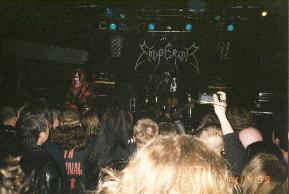 Look Ma, no drummer!!! Pearl drums sat high minus a sticksman And the the keyboardist doesn't seem to be playing!
Playing to LOUD backing tapes doesn't help either.
Massive BM makeups, and helped by powerful 'music', they are certainly better than Peccatum. Although the appearance of keyboardist which indeed 'posing', not playing the synths keep getting into the mind.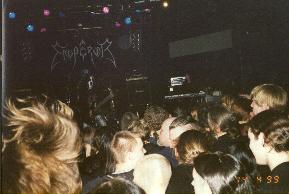 The hordes of the night, Emperor, however, are different. They are LIVE musicians..! Ihsahn showed up with a WHITE 'E' icon shirt alongside Samoth, Trym and session bassist Tyr. They unleashed the mighty 'I Am The Black Wizard' and 'Curse You All Men' with larger-than-life sound..!!!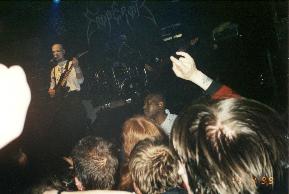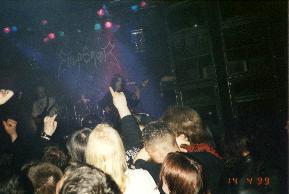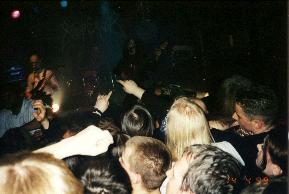 Ihsahn and Samoth... heading their way to the top!
Better than ever, while we're still keeping up with the breathing, they forced us to remain with the speed-killing session with 'The Loss And Curse Of Reverence' and 'Thus Spake The Nightspirit'. Drummer Trym manage to pull out some pure,in-your-face blastbeats throughout. And the fast double bass action speaks for itself.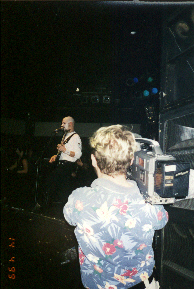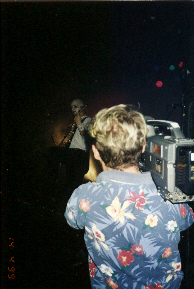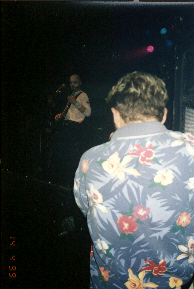 Who said that Ihsahn can't 'sing'..? Well, he obviously can't.
When people think BM drums are mostly stale and non-versatile, Trym's however, maintains the speed and skills. Imagine combining the skills of Dave Lombardo and the speed of Hellhammer/Fenriz. They closed the set quite early,considering the new curfew time inposed on Astoria. While the fans are hungry for more, they settled down with the amazing,fast-as-fuck 'Ye Entranceperium'.

And the new heroes of Black Metal are here to stay, step aside Cradle of Shit, Emperor have never sold out. The new album might sounds a bit different, but they are still Emperor. Emperor 1 Cradle of Shit 0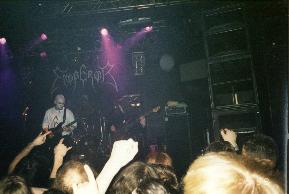 Session Bass player, Tyr. ultra heavy 6-string attack!!!

Emperor*****
Limbonic Art***1/2
Peccatum***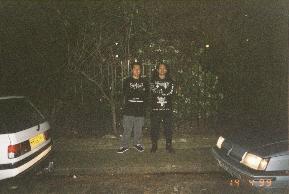 The aftermath... 4 hour-drive back to Hellcastle awaits!

---

This page has been raped for
times since August 15, 1999..