Valentine's Day Massacres...!!!
Deicide, Rotting Christ, Aeternus, Ancient Rites and Behemoth
Venue: London Astoria 2, London, England
Date: Sunday, February 14, 1999

---

When everyone's getting shagged today, those who are in Astoria are getting something better(!). Yes, it's the gathering of the profound fathers of Blasphemous Death Metal, Deicide. They returned to the British soil after a year and they have just released a new live album called 'When Satan Lives'. And tonight, the British fans will be treated (certainly not tricked) to one real life crush-em-all and in-yer-face Death Metal experience....

Polish band Behemoth opened up the show... Lost contact with them since 'From The Pagan Vastlands' release.
That was years ago. No more makeups for them. Plain-clothed, but high-spirited. Too sad the British audience are unfamiliar with their music. Same goes to Ancient Rites. Which in fact VERY popular amongst Asia underground circles, but not here. They delivered unique Black Metal with plain attitude. No fuck yous, no hatreds, just plain Black Metal musicians doing their stuff on stage. Chanting some memorable(!) words during the set didn't help either.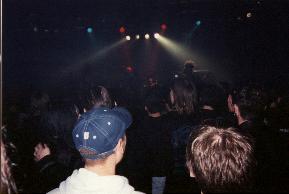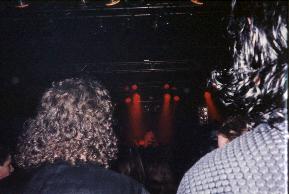 The crowds were too passive, or to ignorance. But both of the bands deserve respects and they've been long enough in the Black Metal scene they can even be called veterans!


Theys Gunther of Ancient Rites
Next, Aeternus stormed the stage. This band is for the BM heads who still live in the 1993. Straightforward Black Metal. Fast, but terribly unlistenable. No, they are nothing like Marduk (speed-wise) and everything seemed to be a mess. Their poorly corpse-painted faces added the misery.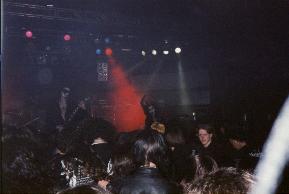 Aeternus, noise-makers..???
Rotting Christ up next. I was a massive fan of their innovative 'Thy MIghty Contract' album. 'Passage To Arcturo' is also a good album but they eventually play nothing from the old albums. The oldest track was taken from the 'Non-Serviam' album making their old fans (me alike!) feeling betrayed. They choose to play newer stuff which is indeed boring. And, no. They did not keep up the tradition. The newer albums seem to lose everything.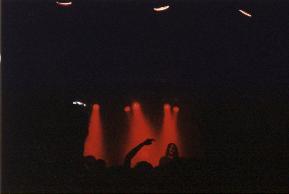 Rotting Christ, growing old and slow...
They lost the touch of creativity. The harmony of melody and aggressiveness of 'Thy Mighty Contract' is long gone. No nail-biting speed songs were played. By playing 'Among Two Storms' or 'A Dead Poem' can never regain their old fans' interest...And they are certainly shouldn't be on the list because their playlist simply sucks!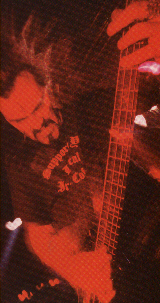 Glen Benton.God of the gods. Father of Blasphemous Art of Destruction.
The ONLY massacre of the day. the almighty Deicide. They appeared with HUGE response. Of course, even the tiyle of the fest suits their music. Glen Benton speaks up with the most anti-mainstream manner, "We'll never sell out on you guys!"..."We ain't Metallica, we're not going to kiss anyone's fat ass just for some paychecks!"..and yes indeed they aren't gonna. They open up the chaosset with the storming 'When Satan Rules His World' followed by all-around MASSIVE pogo-ing and headbanging throughout the entire Astoria! Don't even think abouttaking pictures at the moment..the show is too important to be missed! Blastbeats and 10-tonne heavy riffs and crazy growls and sometimes with added BM-ish screams, they move further with the ultimate rendition of 'Slave To The Cross'. No magic moment here...every single moment is 'magick' here. They then storm out the new songs with the likes of 'Father's Baker' and 'Serpents Of The Light'. As for closing the amazing powerful set, the American quartet blast through the infamous 'Sacrificial Suicide' and finally closing down with the warp-speed 'Dead By Dawn'...

The set finally closes... just wish Morbid Angel were there to observe the guttural attack, orally and musically from the Floridian quartet. Not a nonsense melodic/romantic evening out. They simply kill..! And blapshemous as fuck..!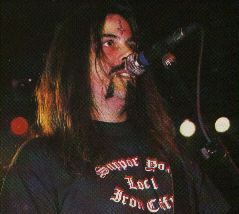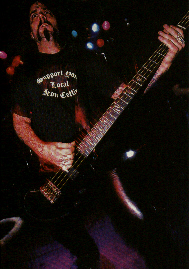 Growing old and steadier...
Deicide*****
Rotting Christ*
Aeternus**
Ancient Rites****
Behemoth***

---

This page has been raped for
times since August 15,1999..